Applause
Thank you so much again for making our wedding cake! It was so perfect and more amazing than we had ever imagined! You are extremely talented!
– Riannon and Trent
~~~~~~~~~~~~~~~~~~~
Those who ate it said it was delicious and the reaction from everyone that saw it was amazement, they really couldn't believe it was a cake.
Thank you again for being so accommodating, you really are so very talented.
-Julie
~~~~~~~~~~~~~~~~~~~
We just wanted to say thank you very much for making our beautiful wedding cake. It looked amazing and tasted absolutely delicious. Many compliments were received on the day.
You are truly talented at what you do and lovely to work with. We will definitely be recommending you to our friends and family.
-Brooke and Luke
~~~~~~~~~~~~~~~~~~~
It was spectacular. It was everything we wanted and more. Yes, the bananas made it safe and even home to Dongara. We can't thank you enough for doing such a perfect job. We will always look you up if we need another one and will recommend you to everyone.
– Vanessa
~~~~~~~~~~~~~~~~~~~
We've been ordering cakes from Queen of Cakes for years. Birthdays, Christenings and special events. The quality (oh my god the quality  ) and the service has been outstanding. The cakes are breathtakingly beautiful and masterfully created. If you are seeking quality look no further. HIGHLY RECOMMENDED
-Tim
~~~~~~~~~~~~~~~~~~~
Just the most awesome tasting cakes and with the utmost perfection in detail. Julie has made all three of my kids' 18th and 21st birthday cakes and never failed to impress everyone. I highly recommend 😋😋😋
– Deb
~~~~~~~~~~~~~~~~~~~
The cakes are absolutely beautiful. You could really tell it was carefully structured. Amazing designs and great quality service. Very happy with my order.
-Jules
~~~~~~~~~~~~~~~~~~~
Julie is amazing, not only do these cakes taste amazing, but they truly pieces of artwork. Julie is always a pleasure to deal with and provides all the extra information and design ideas along the way! My friends and family always look forward to events when there is cake! Thanks for being amazing at what you do!
-Lisa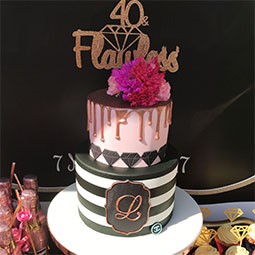 ~~~~~~~~~~~~~~~~~~~
Thank you so very much for our cake! I've frozen the top tier and am very much looking forward to opening it to eat next year! You have amazing talent! There was very little cake left at the end of the night which I think says it all!  Thank you again and be sure we will recommend you! You made the cake experience very easy!
-Naomi and Jerry